(August 22, 2017) Chicago, IL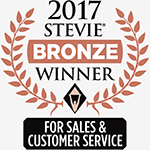 Beltone, a leader in hearing healthcare for over 77 years, and the International Business Awards recently announced that.
Beltone Trust™ was voted a Bronze Stevie Winner for Best New Product in the Health & Pharmaceuticals category.
Beltone Trust™ hearing aids bring those with hearing loss unmatched sound quality and the ability to connect with their
hearing
care
professional outside regularly scheduled appointments
through Remote Care™, all while maintaining a sleek and covert design.

A record total of more than 3,900 nominations from organizations of all sizes and in virtually every industry were submitted in this year's International Business Awards for consideration in a wide range of categories, including Company of the Year, Marketing Campaign of the Year, Best New Product or Service of the Year, Startup of the Year, Corporate Social Responsibility Program of the Year, and Executive of the Year, among others.


The International Business Awards are the world's premier business awards program and all individuals and organizations worldwide — public and private, for-profit and non-profit, large and small - are eligible to submit nominations.

"The IBA judges from across the world were highly impressed with the nominations they reviewed this year. With the level of achievement documented in the nominations from 60 nations, the Stevie Awards are proud to honor organizations that demonstrate a high level of achievement in a variety of industries" said Michael Gallagher, president and founder of the Stevie Awards.

"As the first to bring comprehensive remote fine-tuning to the hearing care industry, we're expanding accessibility for those who cannot easily visit their hearing care professional. Users can now take full advantage of the superb sound quality and unprecedented customer service, all while wearing this small and discreet device," said Corrine Perritano, President of Beltone North America. "We are thrilled to receive the Bronze Stevie from the International Business Awards and excited to continue innovating for our customers."

Beltone Trust™ and other hearing aid products can be found at more than 1,500 Beltone locations throughout North America. Find a location near you.


About the Stevie Awards
Stevie Awards are conferred in seven programs: the Asia-Pacific Stevie Awards, the German Stevie Awards, The American Business Awards, The International Business Awards, the Stevie Awards for Women in Business, the Stevie Awards for Great Employers and the Stevie Awards for Sales & Customer Service. Stevie Awards competitions receive more than 10,000 nominations each year from organizations in more than 60 nations. Honoring organizations of all types and sizes and the people behind them, the Stevies recognize outstanding performances in the workplace worldwide. Learn more about the Stevie Awards at www.StevieAwards.com.


About Beltone
Founded in 1940, Chicago-based Beltone is part of the GN Hearing Care Group, a global leader in intelligent audio solutions with a unique portfolio of medical, professional and consumer audio solutions. Utilizing advanced technology to produce hearing aid instruments sold in the United States, Canada and over 50 countries worldwide, Beltone provides industry-leading products, services and support for its U.S. and Canadian hearing care network operating in over 1,500 offices in North America. Beltone remains the most trusted brand for quality products and care among its patients and adults aged 50 and older.