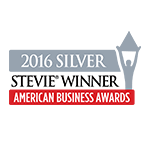 (May 17, 2016) Chicago, IL – Beltone, a leader in hearing healthcare for over 75 years, announced today that Beltone Legend™ has been named the winner of a 2016 Stevie® Award in the health and pharmaceutical products category in the 14th Annual American Business Awards.

Beltone Legend, the world's first and most advanced full family of Made for iPhone® hearing aids, is recognized for its revolutionary connectivity to personal devices, such as iPhone®, iPad®, iPod touch®, allowing direct streaming of sounds to their hearing aids. The HearPlus™ app for iPhone, Apple Watch® and Android™ lets users discreetly control their Beltone Legend hearing aids on the go. This connectivity, combined with its revolutionary sound processing features, gives Beltone Legend the ability to seamlessly integrate technology and lifestyle solutions to address hearing loss.

"Beltone Legend represents the latest in what is possible in hearing aids, taking personalized hearing to the next level," said Corrine Perritano, President of Beltone North America. "This award is a testament to our commitment to delivering care by connecting wearers with everything that matters in life around them."

Beltone Legend is also a candidate for the 2016 People's Choice Stevie Awards for Favorite New Products. Members of the public can help select the winner by voting at the following link and selecting Beltone Legend in the Health & Pharmaceutical Product category prior to 11:59 pm ET on Friday, June 03: 2016 People's Choice Stevie Awards for Favorite New Products. Voters can also enter Beltone Legend's nomination short code of: G966W when prompted.

More than 3,400 nominations from organizations of all sizes and in virtually every industry were submitted this year. "The judges were extremely impressed with the quality of entries we received this year. The competition was intense and every organization that has won should be proud," said Michael Gallagher, president and founder of the Stevie Awards.

The American Business Awards are the nation's premier business awards program. All organizations operating in the U.S.A. are eligible to submit nominations – public and private, for-profit and non-profit, large and small.

Nicknamed the Stevies for the Greek word meaning "crowned," the awards will be presented to winners at a gala ceremony at the Marriott Marquis Hotel in New York on Monday, June 20.

Beltone Legend can be found at more than 1,500 Beltone dispensers throughout North America. Find a location near you.



About the Stevie Awards
The Stevie® Awards were created in 2002 to honor and generate public recognition for the achievements and positive contributions of organizations and working professionals worldwide. More than 3,400 nominations were reviewed in the judging process this year by more than 250 professionals, whose average scores determined the winners. Find The Stevie Awards Online at http://stevieawards.com/aba


Beltone Legend is compatible with iPhone 6s Plus, iPhone 6s, iPhone 6 Plus, iPhone 6, iPhone 5s, iPhone 5c, iPhone 5, iPad Pro, iPad Air 2, iPad Air, iPad (4th generation), iPad mini 4, iPad mini 3, iPad mini 2, iPad mini and iPod touch (5th generation) using iOS 7.X or later. Apple, the Apple logo, iPhone, iPad, iPad Air, iPad mini, iPod touch, iPad Pro, FaceTime and Live Listen are trademarks of Apple Inc., registered in the U.S. and other countries.