Many people initially feel worried or alone after they are diagnosed with hearing loss, even with the support of family and friends. Learning to process these emotions and accept hearing loss is an important step toward managing it; support groups can provide a myriad of benefits to individuals living with hearing loss, such as:
Gain a community of peers who understand what you're facing.

Reduce anxiety, depression, and adjust more quickly to life with hearing loss.

Gather input before making important hearing health decisions.
Learn about new hearing aid technology and medical solutions.
Get first-hand referrals and practical advice about hearing aids.
Compare notes about hearing care professionals.
What does a hearing loss support group look like?
In-person support groups
Simply meeting up with others going through a similar struggle can be invaluable toward decreasing isolation. In-person support groups can help you forge connections with others who have hearing loss so you can trade tips and share your experiences.

Below are two of the largest networks offering chapters nationwide to provide support and increase awareness of hearing loss:
The Hearing Loss Association (HLAA) runs the largest network of support groups in the United States. Trained volunteers who have direct experience with hearing loss lead chapter sessions on strategies for managing hearing loss, as well as advocating for new laws and spreading hearing loss awareness.
The Alexander Graham Bell Association for the Deaf and Hard of Hearing (AG Bell) also runs chapters across the nation that are open to both adults and children.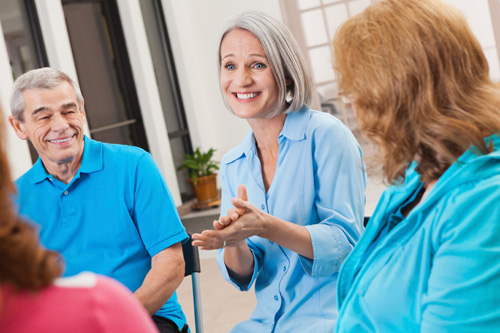 Online support groups
If you can't find a support group in your area, or you feel nervous to attend an in-person meeting, the internet offers many alternatives that make it easy to quickly connect with people all over the world. Below are just a couple hard of hearing forums:
Action on Hearing Loss. This community is based in the UK and features forums on tinnitus, deafness, and hearing loss products and equipment.
Hard of Hearing (Reddit). This forum has hundreds of users who discuss new technologies, share hearing aid reviews, and tell personal stories of hearing loss.
Support groups can also steer you toward the right kind of hearing care professional for your particular case such as hearing care practitioners, audiologists, otolaryngologists, cochlear implant surgeons, speech pathologists, etc.

To find a local hearing loss support group, ask your hearing care specialist, or search the internet for a group in your area.



Check out the state chapters available from the Hearing Loss Association of America. The Alexander Graham Bell Association for the Deaf and Hard of Hearing has chapters in 32 states.
Benefits of participating in a hearing loss support group:
Join a community of peers who understand what you're facing
Achieve a sense of belonging, pride & control
Adjust more quickly & cope more easily with hearing loss
Talk openly and freely without fear
Reduce depression & anxiety
Gain input before making important hearing health decisions
Learn about new hearing aid technology and medical solutions
Get practical advice about hearing aids
Explore a variety of treatment options
Get first-hand referrals
Compare notes about hearing care professionals